Shibaricamp 2019
The place to be for rope!
.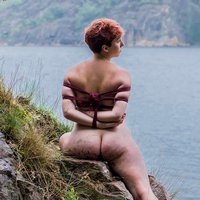 Stay tuned
We are preparing for the best
rope camp we can make
Shibaricamp
Between the 5th and 11th of August 2019 the 9th edition of Shibaricamp is taking place. You will be able to experience workshops, performances, relax in a beautiful environment and create new memories and friendships that will last a lifetime.
Shibaricamp 2019 is something that you don't want to miss!
What is it
Shibaricamp is a summer camp in Bohuslän on the west coast of Sweden. With it's beautiful surroundings and cosy atmosphere it gives a unique setting for an unforgettable week. Regardless if you spend time in workshops, tying, sunbathing in the garden or just hanging out (pun intended) you will bring beautiful memories back home. It is also close to several local tourist sites, including one of Europe's oldest, still active rope making factories. It's not just the teaching, or the relaxed atmosphere. Nor is it just the beautiful surroundings or the cosy venue. It's all of it combined that makes Shibari camp the won't-miss-it-for-the-world event for a lot of rope nerds all over Europe. So make room in you schedule and join in. It makes no difference if you´re a fresh beginner or a seasoned roper.
Who can come?
The only thing you need in order to enjoy Shibaricamp is a love for rope. Participants range from those experienced with rope that come to hone their skills to the beginners who are curious to learn. We wish to create learning opportunities for everyone in safe a environment that encourage exploration, regardless of gender, roles and sexual expression.