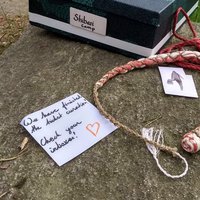 The curation of the tickets is done!
Check your inboxes if you haven't already!
Everybody that registered interest in Shibaricamp 2021 have been contacted through the email that was entered during the registration.

It's always bittersweet to do the curation. It's awesome to see that there's such an interest in Shibaricamp, but it's also sad to have to turn away so many. In a year such as this, we still had twice as many interested, as available tickets.

There's a waiting list, so if you weren't offered a ticket, there's still a chance to get one, if someone that was offered one changes their mind.

❤️
"Lovely place, great people and great teachers. You can feel a sort of beautiful peace here. Everyone can be anything they want to be. A very special gift for everybody. Thank you all!!"
What is Shibaricamp?
Shibaricamp is a summer camp in Bohuslän on the west coast of Sweden that provides a unique setting for an unforgettable week of rope and fun. We are aiming to nourish a culture of community and acceptance, where everybody can get a little bit closer to themselves and each other, regardless of who they are.
It's not just the great and personal teaching, or the relaxed atmosphere of everyone living together, nor is it just the beautiful surroundings or the cozy, secluded location - It's all of it combined that makes Shibaricamp the won't-miss-it-for-the-world event for a lot of rope nerds all over Europe. So make room in your schedule and join in!
Regardless if you spend time learning, practising, tying, playing, sunbathing in the garden, swimming in the sea, or just hanging out (pun intended) you will bring beautiful memories back home.
The craggy and picturesque Bohuslän coast is one of Sweden's natural treasures, and you have several great choices for touristy outings to clear your mind, including one of Europe's oldest, still active rope making factories.
Who can come?
It makes no difference if you're a fresh beginner or a seasoned roper - the only things you need in order to enjoy Shibaricamp is a love for rope, and of course respect for other people. Participants range from those experienced with rope that come to hone their skills to beginners who are curious to learn.
Every year, a mix of about 50 regulars and newcomers, from all over the world, get together for a week of rope and all that comes with it. We wish to create learning opportunities for everyone in safe a environment that encourages exploration, regardless of gender, role and sexual expression.

Curious? Read more about Shibaricamp here